Tatum Branch wins Regional Art Contest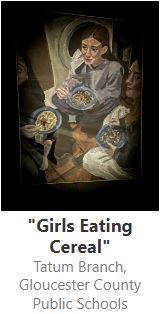 Gloucester High School Junior, Tatum Branch, is the winner of the Virginia School Boards Association Spring Regional Art Contest.  ¨We were instructed to make a painting that was inspired by an artist of our choice," Branch said. ¨I had chosen Mary Cassat because I think her paintings are very interesting and I love her impressionistic style." Mary Cassatt was an artist who painted women doing everyday things in the nineteenth century. Through this inspiration, Tatum incorporated Mary Cassat in her paintings by using a complementary color scheme and an impressionistic art style. She also used Cassat's concept of painting women doing everyday things, except in the twenty-first century, rather than the nineteenth century. 
Branch won the contest by painting a picture of 3 girls sitting together in a laundry room and eating cereal, something so simple, but magnificent! Many of her friends have raised the question if the painting was a picture of her and her other friends. Tatum wanted to clarify that it is not a picture of her friends, rather it was inspired by a picture she found online. This is the first painting Branch has actually titled, Girls Eating Cereal.  Branch explained that because Cassat named her paintings very literally, after what was in the painting, she decided to do the same. 
¨In addition, I think my drawing and painting class has given me a much better understanding of art overall, and I think I have become a better artist because of it. Mr. Burns was also a really good teacher and taught me many great things." Branch explained. She will be taking an AP art class next year and is looking forward to continuing art as a hobby. Despite the fact that Branch is so talented and interested in art, she is not looking to make it a career. She is looking forward to working in marketing and using her artistic talent in design. ¨The contest was an experience for me, and I'm glad I participated.¨ she said.