Forensics Club Offers Opportunity for Students of All Grades.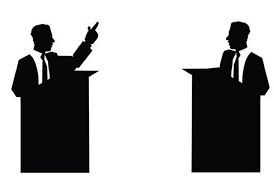 When most people hear the word "Forensics," they usually think of a laboratory for crime scenes, but the Forensics club at Gloucester High School isn't all about that. The Forensics club gives students the opportunity to compete with other high schools all around Virginia in public speaking categories like Extemporaneous Speaking, Storytelling, Humorous Dramatic Interpretation, Duo Interpretation, and many other things.
During the open house in August, there was a signup sheet where a lot of people had thought that it was crime solving. Once they heard that it was public speaking, some dropped out because it gave them anxiety while others most likely were disappointed or weren't interested so they didn't come to the interesting meeting.
Extemporaneous Speaking is one of the main many things that a student can do. What it is is that Students are given 1-3 questions in 'Exempt Prep' in which they are then asked to take 30 minutes to prepare a 7 minute speech answering the question they are given. The questions can be like "Why do we celebrate Thanksgiving?" or "Should we buy- a  name?" It is a short time to make a 7 minute speech, but to some it's just the right amount of time. If you like speaking without any notes then this is just for you, but if you aren't confident in it fully there are many other things to do in the forensic club.
Storytelling is just basically those old folk tales we all know, love, and grew up with, or those stories everyone tells and hears about around a campfire. Anything that has to do with storytelling falls into that category. The story doesn't require you to have to make a speech in a small amount of time, but it's usually no more than five minutes. This takes a bit of memorization because you will need to memorize the story since you won't have a paper or book in front of you.
If you like acting then Humorous/Dramatic Interpretation will be a good one for you. There are already written scripts that students can choose from that are either very humorous or very dramatic. There are a lot of emotions that come from it to make it more interesting like pitch changing, cadency, and big and exaggerated  movements. Many characters can be played by one individual, or it can be just one, but usually it is about 10 minutes long. 
Duo interpretation is any of the ones that were just listed, but majority of the time it's  Humorous/Dramatic Interpretation, but you're with another individual. That means you and someone else is performing a speech together, this is very good for students that want to join or do something like the forensics club, but find it difficult to be up on a stage on their own, and preforming on their own.
If you have any more questions, ask Mrs. Blake who is the sponsor of the forensics club for anything you want to know or any regarding the Forensics club. There are currently 3 members in the club, but the club is welcome to anyone of any grade. So if you find anything interesting, come join. There's a lot to do in the club.