Revisiting the Colonial Parkway Killings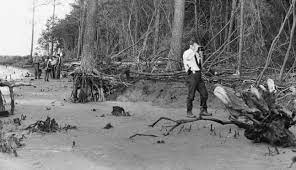 The Colonial Parkway killings is one of Virginia's most unknown killings that remains unsolved to this day. Colonial Parkway is known for its beautiful scenery and its history, during the day at least. During the night, however, is a completely different story. Long roads with turns everywhere, no streetlights, and completely covered by woods. Even though it is very creepy during the night, it is known as a perfect spot for couples to go for privacy. Unfortunately, during the years of 1986-1989 three "couples" would be murdered, and one "couple" would go missing. I grew up being told that they would be pulled over in their cars by somebody pretending to be a cop. But after I've done my research, is there really a serial killer? Or just three murders and a vanishing happening to all be along side of Colonial Parkway? To this day these questions remain unanswered.
The First Killings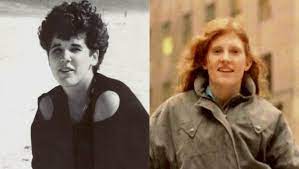 Cathleen Thomas (L) and Rebecca Dowski (R)Cathleen Thomas, 27, and Rebecca Dowski, 21, were both found dead on October 12, 1986. They were found in a 1980 White Honda Civic that had been pushed down an embankment off the Colonial Parkway. An autopsy found rope burns on their neck and wrists, signs of strangulation, and their throats had been slit. Thomas's throat had been cut so deeply she was near decapitation. Dowski was found in the backseat of the car while Thomas was stuffed into the hatchback. The car and bodies had also been covered in diesel fuel and signs showed the killer tried to ignite the car but had failed to. Bill Thomas, Cathleen Thomas's brother, believed it was a hate crime as they were in a relationship, or that's what he thought until another case "similar" to this one happened.
The Second Killings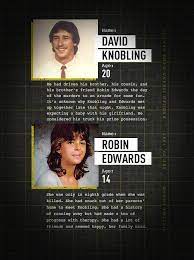 David Knobling (L) and Robin Edwards (R)Robin Edwards, 14, and David Knobling, 20, both met on September 19, 1987. Edwards went on a date with James, Knoblings younger cousin, after the date she had accepted a ride from Knobling to be taken home. Knobling was in an off and on relationship with his pregnant girlfriend, at the time when he had given Edwards a ride they were off, and so in the ride to Edwards house they had made plans to meet again later that night. James said it was very surprising when he found out that Edwards and Knobling met again later that night because they went to an arcade as a date and they didn't talk to each other at all, the only time they would have been able to talk to each other was in the car ride home which was, at tops, 20 minutes. Nobody knows what was said but after everybody was dropped off and at home they would later meet. Edwards had snuck out, something that was very normal for her, but Knobling being 20, he just grabbed his keys and left.
On September 20, 1987 at 5 am, Edwards dad walked into her room to check on her and saw she wasn't there, now like stated earlier, it wasn't unusual for Edwards to sneak out or to run away, but her father saw she didn't take any clothes, so he took that as a good sign she wouldn't be gone for very long. At 7am Edward's mom had a very uneasy feeling about her daughter not being home so she reported her daughter missing, or at least tried to, but the cops say it's the weekend so she is probably out doing something and she'll be back and that she can come back Monday. Monday rolls around and no sign of Edwards, so her mother reported her missing.
Later that day September, 21, 1987 Knobling's truck is found by a officer that was passing by the Ragged Island area, and when he got a closer look, he saw the trucks doors were open, the key was in the ignition set to accessory mode, the radio was left on, windshield wipers were on, and inside the car was two pairs of shoes, some clothing, and a man's wallet. The cop had said that two kids went skinny dipping and left their stuff here, which doesn't make any sense because the night before the weather was 42 degrees. Knoblings mother was called down and she said Knobling loved his truck and he would never leave it unlocked like this. After she saw the truck she went back to work but something kept nagging at her, Knobling had wired the radio to the car's battery so he would only have to hit the on button, not turn the car open all the way to have the radio playing, so the fact it was on accessory mode really suck out to her.
Unfortunately, nothing would show up until September 23, 1987, when a jogger found clothes washed up on the shore, but when the jogger got a closer look, they found it was Edwards. Her body had been bloated so it was clear she had been in the water for a while, she had a gunshot wound in the back of her head, her pants were unbuttoned, with her bra around her neck. Only 30 yards away they found Knobling, he only had pants on, he was tangled in tree roots, and he had been shot once in the shoulder and once in the head. Officers believed that Edwards was shot execution style and then Knobling tried to flee by climbing up the embankment and then the killer likely shot him once in the shoulder to slow him down and once in the head to kill him. There was evidence that Edwards had anal sex before she was killed, and if it was with Knobling or the killer is unknown.
There were a lot of theories but this one theory a lot of people agreed with. Before Edwards was found dead, she was at this party where she was approached by a drug dealer by the name of Mr. Washington. He went up to her to hook up but she turned him down and he said that really pissed him off because Edwards was known to be promiscuous and in his mind he was offended she didn't have sex with him, he thought who is she to turn me down but not others. So police thought Edwards had called him to buy weed from him to smoke it with Knobling and when they met up everything just went wrong. There was one big clue to why it pointed to Washington, he only had anal sex if it was with men or women. The lead felt like a really good one but there was nothing putting him at the scene so the police were looking for somebody to put him at that place, somebody to turn on him and the police knew exactly who. Washington had this "sidekick" who was always seen with him, he had been raped by Washington before and he was very scared of him and it took a long time for him to talk to police about his wearabouts. Not too long after he does start talking he is found dead on the railroad tracks after "falling asleep". 
The Third Killings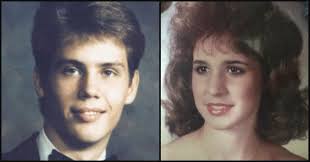 Richard Call (L) and Cassandra Hailey (R)Richard Call, 20, and Cassandra Hailey, 18, on April 10, 1988 both of them went on their first date, but Cassandra had been secretly seeing somebody but it's unknown if it wasn't a serious relationship or if she was trying to keep it under wraps. She was seeing an African American man a year younger than her and it was believed there was still racial tension in Virginia at the time because when Hailey's mom found out she told her to "be careful." Hailey and Call end up going to a party together with each other as a date on the 10th, but everybody at the party claims they didn't speak to each other at all. The following day, Call's Toyota was found near the York River Overlook along the Colonial Parkway. Call's driver's side door was open and his wallet and Hailey's purse lay inside. Investigators found two piles of clothing and some of their personal belongings. Police later confirmed that the clothes found in the car is what the wore the night they went missing 
Police dogs tracked their scents to the York Rivers shoreline, but they are still missing to this day. The most prevalent theory is that their bodies were washed away with the river flow. However, some investigators are reluctant to add Call and Hailey's disappearance to Colonial Parkway Killer.
Now at this time police didn't "connect" that there might have been a serial killer because the FBI was in charge of this killing and the murders of Thomas and Dowski. Since the FBI was working with these two cases, people suspected that there might have been similarities.
The Fourth Killings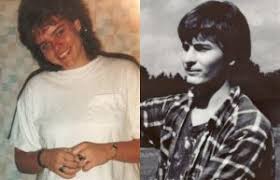 Daniel Lauer, 21, and his brother's girlfriend Annamaria Phelps, 18. After Labor day weekend in 1989. Lauer and Phelps pack up, because Lauer is heading back up to Amelia County, Lauer was going to move into his brother's house because his brother is having a hard time with money and couldn't pay rent. Phelps joined her boyfriend's brother so she could go visit some of her family in Amelia County while Lauer packed his things. After packing his things and getting money from his dad, Lauer and Phelps left his parents house on September 4th at 11:15 pm, they should have arrived in Virginia beach in a few hours. 1:30 am is when they should have showed up but 1:30 rolled around and they didn't show up, then 2 am by now Clint (Lauer's brother) is getting worried and he eventually gets in his own car and goes and tries to find them. He decides to turn around just before he gets to a rest stop, but unfortunately what he didn't know is that at that rest stop was where his brother and his girlfriend would be. Lauer's car pulled off on an acceleration ramp, half on the road and half off. When Clint makes it back home and they aren't there he calls his parents and his parents call the police and then a missing persons report is made.
The car was found with the window partly rolled down and the keys in the ignition. Phelps had a marijuan roach clip with feathers and she always had it but it was clipped to the window and she would never do anything like that. There was no sign of a struggle, nothing, it's like they just disappeared. Tracking dogs were brought in and the dogs couldn't get a scent and find them. When the car was processed they found a few items were missing such as Phelps wallet and the money Lauer got from his dad, and then an electric blanket that Lauer's mom had given him. 
On October 21, 1989, two turkey hunters were in the area just one mile from where the car was found. When they came across remains covered in the same electric blanket Lauer's mom had given him. The two bodies were completely decomposed after being outside for six weeks and it was very difficult to identify them and find the cause of death. It took two days for them to identify Phelps with her dental records and then a couple days more to get Lauers. The only wound found on either of the victims was a single cut to Phelps finger bone. Other than the blanket the only physical piece of evidence around the body was a locket that Phelps always wears with pictures of her nephews in it, it was found 50-100 feet away from the bodies without the chain. What doesn't make sense was the car was found on the west side but if they were heading to Virginia beach then they would have been on the east side. 
Shenandoah Killings
I believe the murder of Thomas and Dowksi maybe linked to another killing, The Shenandoah killings. On May 19,1996, Julie Williams, 24, and Lollie Winans, 26, took their golden retriever with them to go camping together. However On May 31 Thomas Williams, Julie's father, reported them missing. Park rangers sent out a search party and located their car just North of the Skyland Lodge  "We started doing hasty searches to cover all of those trail corridors in that general area to see if we could locate them," explains Bridget Bohnet, Deputy Chief Ranger at Shenandoah National Park. "At some point during those hasty searches we did locate the dog." Taj, the golden retriever, was wandering through the park unleashed.
The next evening, on June 1, 1996, rangers found the bodies of Julie and Lollie at their campsite on Bridal Trail, a part of the horse trail system that runs from Big Meadows to Skyland.
Their campsite was only a quarter mile down the trail from Skyline Drive and a half-mile from Skyland Lodge, a popular gathering place with a bar, restaurant and cabins. It was the weekend after Memorial Day, and the lodge must have been packed with hikers and tourists. It's crazy to think that within a ten-minute hike from this popular location, two women could be bound and gagged and have their throats slashed, and their killer could disappear without a trace. But sometime after May 24, 1996, the date that Julie and Lollie were last seen, that's exactly what happened.
It also seems nearly impossible that two bodies could lay undiscovered in such a popular part of the park on a busy holiday weekend but, as Bohnet explains, one of the backcountry regulations at the time was that backpackers had to camp away from designated trails, fire roads, and developed areas. "It wasn't a heavily used or heavily traveled trail," says Bohnet.
Photos left behind in their camera give a glimpse of the last few days of Julie and Lollie's lives. The women arrived in Shenandoah National Park on May 19, 1996 and launched off into the woods on the Whiteoak Canyon Trail, emerging again a few days later due to rain. According to Yeoman, they hitched a ride with a park ranger and renewed their camping permit before setting out again. They climbed Hawksbill, the highest mountain in Shenandoah, before making camp that night in an idyllic spot next to a stream near the Appalachian Trail. However this case is still active and on going 
What actually happened?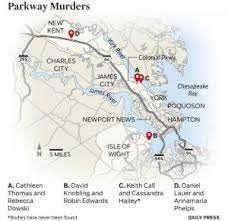 Now what happened to these people still remains unanswered, but there are a crazy amount of theories. I don't believe that they are all linked together or the fact there is a serial killer, the killings aren't consistent, the way they were found aren't the same. For example Thomas and Dowski were still in the car, Knobling and Edwards were found washed up, and Phelps and Lauer were moved into the woods. The motives don't appear to be the same either, Lauer and Phelps had their money taken and Thomas and Dowski looks like a hate crime. I can't find any articles that might have an idea on a motive for the other two cases.
Another recurring thing is that the articles aren't consistent, at all. Some are saying that Knobling and Edwards were found together but the most credible source, A podcast with the title "SERIAL KILLER;On The Colonial Parkway" by Crime Junkie, actually had one of the victim's family give them the most credible sources, claims that they were found 30 yards apart. So much information is mixed up and just not correct making it very difficult to even get a story out on it.
There is a lot of misinformation and random leads and theories making this case a whole mess. But with all this stuff we still don't have any evidence on who the killer(s) are. Will these murders ever be solved?