Vaccine Mandate
On September 9th, 2021, President Biden issued an executive order directing the Department of Labor's Occupational Safety and Health Administration to develop a rule stating that all companies that have 100 employees or more, must be vaccinated, or tested weekly. "What more is there to wait for? What more do you need to see? We've made vaccinations free, safe and convenient. the vaccine has FDA approval, over 200 million Americans have gotten at least one shot," Biden said during a White House press conference. Biden continued, "We've been patient, but our patience is wearing thin, and the refusal has cost all of us. So please do the right thing." This new mandate comes as the United States experiences new all-time high cases of COVID-19, with California, Texas, and Florida leading the rise in cases according to Worldometers.Info. More than 200 million Americans have received their first dose of the COVID-19 vaccine, with 177 million of those fully vaccinated, according to the CDC report on September 10th. Meanwhile, all Federal employees must be vaccinated, with no option for testing.
According to the mandate, if companies refuse to enforce the new order, they could be fined up to $14,000 USD. US COVID-19 cases have been on a steady rise for the past week, leading to all time highs in ICUs.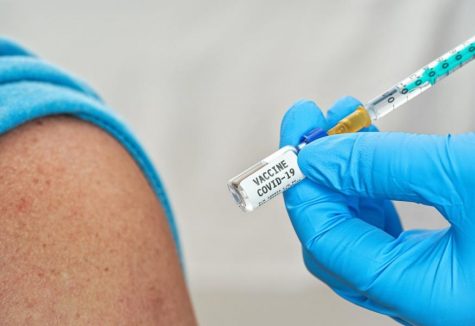 Many in the opposition say this mandate is illegal, and against the constitution. However, in 1905, the Supreme Court case of Jacobson v Massachusetts, the court upheld the Board of Health's authority to require vaccination against smallpox during the epidemic, Justice John Marshall Harlan responded, "But the liberty secured by the Constitution of the United States to every person within its jurisdiction does not import an absolute right in each person to be, at all times and in all circumstances, wholly freed from restraint. There are manifold restraints to which every person is necessarily subject for the common good."
Recently, Justice Amy Coney Barret dismissed a lawsuit against the University of Indiana's vaccine mandate, denying any challenge to the 1905 Supreme Court decision. In the days to come, we will see whether or not this new vaccine mandate will survive the political world, and be enforced among the public. As of September 21, 2021, more than 694,000 lives have been lost to the Coronavirus since the beginning of the pandemic, more than the Spanish Flu Pandemic of 1918.
Links: https://covid.cdc.gov/covid-data-tracker/#vaccinations_vacc-total-admin-rate-total