Impact of COVID-19 on Small Businesses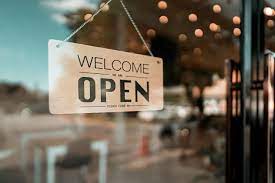 COVID has affected all of us in many different ways. Whether it's business, personal, mental, or emotional. Today, I am focusing on the impact of COVID on small business restaurants. There are negative, as well as, positive impacts. I have interviewed owners, managers, staff, and customers to attempt to define the impact the pandemic has had on our local small business restaurants. 
Many people were shocked about the dramatic impact the pandemic has had on small business restaurants. "I've been in the restaurant business since 1991 and never thought the state would just shut you down. It was a traumatic experience for everyone in our industry," says Ron Smith, owner of County Grill & Harpoon Larry's. Not only are the people working in the industry disappointed with the effects of COVID, but also the customers. Michelle H, a server, says, "Prices haven't been consistent, customers get frustrated with the consistent increase. Orders have to slim down due to costs and shortages which also infuriates customers," We interviewed a customer named Andrea who confirmed this. "As a customer, I have noticed that the lack of customer service has decreased due to the lack of employees." 
There have been many effects on prices due to shortages.  Due to a fuel price increase, there has also been an additional fuel charge applied to most food invoices.  "The biggest challenge going forward is dealing with food costs and maintaining a labor force.  The labor market is very competitive," says Ron Smith. "Prices have been increased in an attempt to equalize the cost versus what we charge due to shortages, which increase our cost. Not to add the food companies have added a fuel charge, based on the rising cost of fuel," says Stacy Violette, a former manager. We have collected replies that describe the dramatic increase in prices of food, as the effect of COVID. "Food costs have increased, but are stabilizing. For example, chicken wings were $40 a case before COVID and peaked at $170 a case. They are down considerably, but not to pre-COVID levels," says Ron Smith. Stacy Violette says, "Lettuce went from $35 a case to $85 a case overnight."
 Although there have been many negative effects of COVID, it has also positively impacted these people, within the restaurant and in their personal lives. "I opened the restaurant with the intention to build a family and that's exactly what we have so I don't believe COVID has changed how I manage," says Wesley Bowen, owner of The Office bar and grill. COVID has made everyone more appreciative of the hard workers in the industry. "I have learned to be more patient," says Andrea K,  a customer. Everybody is working hard to keep restaurants running, and enjoyable. There have been many effects of COVID, whether it's positive or negative, but through all of this, I believe everyone has learned to manage, and move through the hardships of the pandemic.