XC Teams and Their Stats
This year's team has about 30 runners on it(19 boys, 11 girls). This year's freshmans/JV are Casey Billings, Hannah Broadwell,Karl Dean, David Dean,  Tyson Ferrie, Chandler Howlett, Hannah Ridings, Chelsea Shield, Chloe Sylvester, and Erik Waters. Moving onto the sophomores; Mackenzie Alcorn, Michael Ansicar, Ty Baker, Annalise Helton, Abby Junker, Aiden Pincince Zoe Scott, Joel Taylor, and Kayla Turner. Juniors; Rylan Allcorn, Mya Baker and Tyler Hicks. And last but not least, the Seniors are; Abby Brown, Brandon Carucci, Caden Felder, Ethan Gardiner, Owen Hogge, Joel Junker, Clayton Miller, Joshua Rodriguez-Cruz, and Ian Waters.
Last year at the region meet the boys team took first place and the girls team took 3rd which led the team to the states competition. The states competition last year was held at Machicomoco State Park, right here in Gloucester, Virginia. The boys team took 9th place and the girls team took 12th. The team faced a lot of tough competition and hope to do better this year.
This past Wednesday Gloucester competed at an away meet at Sandy Bottom Nature Park in Hampton. Most of the varsity runners didn't run but Ian Waters came in first for the Gloucester team with a time of 22:31, followed by Caden Felder(22:57), Michael Ansicar(23:09), Karl Dean(23:25), Brandon Carucci(23:45), Chandler Howlett(24:01), Joshua Rodriguez-Cruz(24:03), David Dean(28:28), and Erik Waters(28:34). From the girls team Kayla Turner came in 2nd with a time of 26:59, followed by Hannah Broadwell(26:59), Annalise Helton(27:21), Hannah Ridings(28:27), Chloe Sylvester(28:39), Chelsea Shield(29:24), Abby Brown(29:57), Kasey Billings(30:29) and Zoe Scott(31:45).
This year's cross country team hopes to make it to states again this year and improve on their performance at the states competition. This year's state competition will be held at Oatlands Plantation in Leesburg, Virginia. The team will be traveling there this weekend to check out the course that they will hopefully be running in about 7 weeks.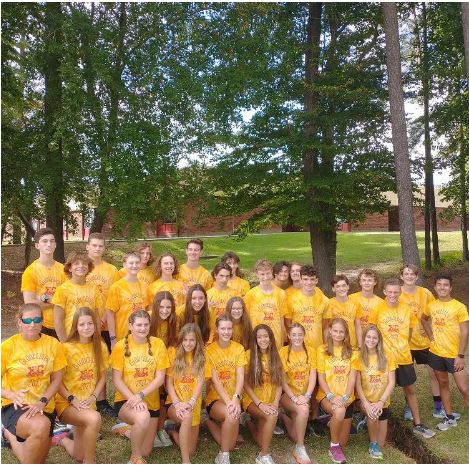 Pictured here is the 2022-23 Gloucester Cross Country team.
Back row L-R: Clayton Miller, Ian Waters, Aiden Pincince, Caden Felder, Rylan Allcorn, Owen Hogge, Tyler Hicks.
Next row L-R: Chandler Howlett, Erik Waters, Michael Ansicar, Tyson Ferrie, Brandon Carucci, Karl Dean, David Dean, Joel Taylor, Joel Junker, Ethan Gardiner, Joshua Rodriguez Cruz
Middle row L-R: Hannah Broadwell, Zoe Scott, Chloe Sylvester
Front row L-R: Lindsay Newell, Mya Baker, Abby Brown, Chelsea Sheild, Mackenzie Alcorn, Kayla Turner, Annalise Helton, Casey Billings, Hannah Ridings
Not pictured: Ty Baker and Abby Junker