Colleen Hoover's "All Your Perfects" Is A Must Read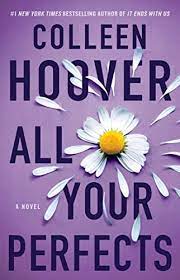 All Your Perfects is a heart-wrenching novel by Colleen Hoover that explores the complexion of a marriage struggling with infertility, communication breakdowns, and past traumas. The story is told through the alternating perspectives of the two main characters, Quinn and Graham, whose perspectives are divided between the past and present.
Quinn and Graham meet in a chance encounter and fall in love quickly. They are both young and passionate, and their love grows stronger as they build a life together. However, when they try to start a family, they are faced with many obstacles, and the stress and disappointment begin to take a toll on their relationship. Quinn's desperate desire to have a child leads her to obsess over fertility treatments, causing her to pull away from Graham, who is struggling with his own demons from his past.
The book mainly explores the theme of communication breakdowns in relationships, as Quinn and Graham struggle to connect with each other during this difficult time. Hoover shows how misunderstandings and secrets can drive a wedge between even the strongest couples. Both characters are flawed and make mistakes, but their love for each other is evident in their attempts to fix their relationship.
Hoover's writing style is captivating and emotional, making the reader empathize deeply with the characters. The alternating perspectives add depth to the story, as readers gain insight into each character's thoughts and feelings. The flashback scenes are particularly effective, as they allow readers to understand the characters' journeys and how their past experiences have shaped their present struggles.
Overall, "All Your Perfects" is a very nicely written and emotionally charged novel that explores the difficulties of marriage and the power of love. Hoover tackles difficult themes with sensitivity and nuance, and the result is a compelling and thought-provoking read that will stay with readers long after they've finished the last page.