You're Next Is A Slow Burn But Worth The Time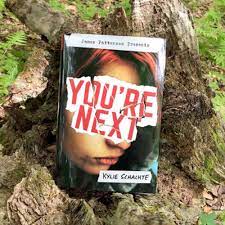 Flora Calhoun is the main character of an exciting book titled You're Next by Kylie Schachte. She has many things wrong with her but she's trying her best to fit in. She loves investigating crimes and getting into the nitty gritty, but it's more of an obsession than she thinks it is. Ava McQueen was her 'almost girlfriend' after they kissed one summer. She wasn't really talking to Flora after what happened but they still cared about each other. Their relationship was weird, it was very much of a situation/relationship. Cass is Flora's best friend, she's been there for Flora with everything that she's been through. 
The book moves slowly in the beginning. You just have to have time to actually sit down and read the book. It's not the type of book that you can just get addicted to from the beginning, but once you actually get into it you will want to go home and read every day. If you like crime and mystery then this book is something you might want to consider reading.
Flora is also aware of the other killings that have been happening around the same area that she's in. Flora is extremely invested in finding out who it is and why they are doing it. She is thriving off of this mystery, she has made it her mission to solve this mystery without getting caught. With her grandfather's connections, her intent, and the law trying to make sure she stays out of trouble, she has a lot of good and bad things that could happen. 
I find the book very interesting, it goes into great detail with how Flora thinks and how she copes with death and family issues. She finds new people, places, and interests along the way. The book really shows that not everyone's the same, and that high school can be hard and confusing. The book is a Mystery, Young Adult, Thriller, LGBT+, Fiction, and Suspenseful.
Overall, I would recommend this to many people, it's a great book. It's very detailed and such a good read.