Best Songs to Listen to Over Spring Break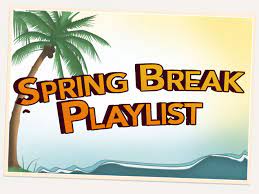 Regardless of your plans, no break or vacation is complete without the proper soundtrack to set the mood and make you excited for the week ahead. From Motley Crue to Eminem here are some perfect songs to listen to this spring break.
"When I'm Gone" by Eminem, is about Eminem's relationship with his daughter. It's his way of expressing that he is afraid of losing his daughter due to his career, he doesn't get to spend a lot of time with her because of his professional lifestyle. He had always felt guilty for having to leave so often and it was affecting Hailie.
"Stan" by Eminem, is about a fictional character named Stan who has fallen in love with Eminem. This character Stan is an extremely devoted fan, he becomes so obsessed with Eminem that he claims in the song that he gets Eminem's name tattooed on his chest, the song also states that Stan's girlfriend becomes jealous because of how obsessed he is. In the end of the song it reveals that Stan goes manic. He kills his wife and himself because Eminem didn't get into contact with him fast enough.
"Gangsta's Paradise" by Coolio (feat. L.V.), is about the mental processes/struggles of someone who was raised by the streets.
"Merry-Go-Round" by Motley Crue,
The inspiration for this song comes from an incident that happened to Nikki Sixx (the bassist of the band) in Seattle. Nikki witnessed someone with a mental condition being taken away from authorities when they refused to get off the Merry-Go-Round, hence the name. The song's lyrics are kinda weird because they portray the perspective of a man with a mental disorder and what is making him become attached to something.
"Simple Man" by Lynyrd Skynyrd,
The song Simple Man is about a mother-son relationship. In the song you can hear the lessons the mother is trying to teach her son about love, life and the hardships he may face as he grows. According to Song Facts the lyrics of this song were thought of shortly after Ronnie Van Zant's grandmother and Gary Rossington's mother died. The band got together in Van Zant's apartment and started telling stories about their loved ones and lessons that they were taught.
"Mama I'm Coming Home" by Ozzy Osbourne,
This song is about Ozzy Osbourne's wife Sharon. Because of Sharons loving and supportive nature, which most mothers have and he nicknamed her Mama, he decided to name the song ¨Mama I'm Coming Home.¨ The song was inspired when Ozzy started to become aware of the effect that drugs and being away so often had on the people around him. He saw the effect most in Sharon since she was both his manager and wife. Ozzy sobered up and promised Sharon that he would change for the better and come home with her instead of staying away and then he decided to make this song for her.