Sophomore, Trevor Scribbins Finds Success in Sports and Music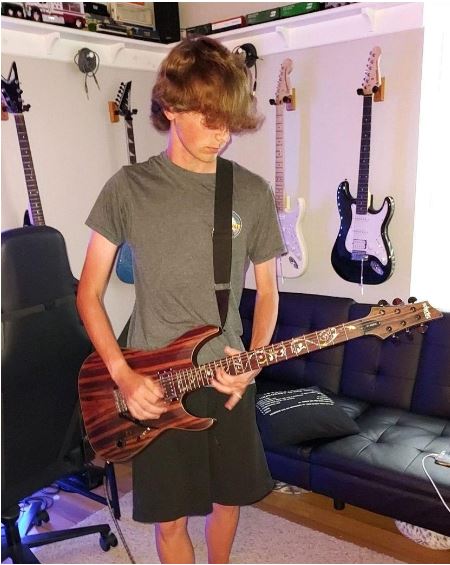 Trevor Scribbins is a sophomore at Gloucester High School. He is part of the varsity tennis team, where he values the friendship and teamwork the sport provides. He is a well-rounded student and a Renaissance man, his hobbies include playing guitar, tennis, and fishing. He is a role model for those around him.  Sophomore, Colin Fisher says, "I've known Trevor for years. I think he is an inspiring individual. I appreciate his love for tennis and believe that his heart is almost as big as his love for gaming." According to Bella Cortez, a Sophomore, "Trevor inspires me to be a better human being. His love and kindness for others motivates me to be nicer to people because you never know what someone is going through."
Scribbins said, "I wanted to join tennis because I needed to get in shape and I wanted to do something with my spare time." But Scribbins admits he found so much more as a member of the tennis team. "Being part of a team who helps each other practice, and having that practice pay off, through wins, is definitely something special. I think that's what makes it all worth it." According to Scribbins, winning a game is the most rewarding and satisfactory part of being on the tennis team.  
Scribbins says that his plan after high school is to either go to college or find a good job, but that he is not completely sure what that job would be. His number one goal is to be a better guitarist in hopes of one day becoming a professional in a band. 
Shepherd Crowell, a sophomore and long-time friend of Scribbins' reports that "he is a renowned musician. His striving to be better when it comes to guitar is what inspired me to start playing bass. He practices for as much as two hours a day, which is the kind of stamina that any good musician should have." Scribbins has been playing guitar for a little over a year and now owns five guitars. This expensive hobby is fueled by the dream to one day become a famous musician in a rock band.