Gloucester's One Act Play Makes it to Regionals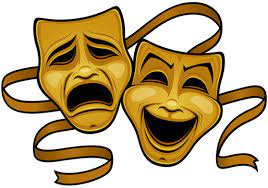 On February 18th, 2023 the VHSL One Act Theatre Competition took place at Gloucester High School. Four schools performed that day, but only two would be permitted to continue onto the statewide competition. These four groups had won a previous regional round and were anxious to earn their way to states. The groups were judged by Dr. Shelley Nowacek, Jan Barrett, Beverly Hammond, and Melissa Atkinson. They were each permitted five minutes to set their stage and 30 minutes to perform. 
First, Woodside High School performed Women in War, a somber piece about the roles women have played in U.S. combat and the losses they have faced as a result of this. Although I enjoyed every play that day, this was definitely my least favorite, as I felt the acting was subpar and the show itself was quite boring. 
  After Woodside, Gloucester's theater troupe displayed a riveting performance of Bad Dates. A romantic comedy about two people who had dated since the fifth grade, taking a break to go on dates with other people. Extremely odd other people. I had already seen the play before, but I enjoyed it just as much the second time around. The actors did a very good job of completely committing to their roles and there were a lot of frankly hilarious moments throughout the one act. 
Thirdly, came Norview High School who performed Conflict. This performance was one of my favorites and was definitely the funniest out of all the productions I watched that day. The narrator of the piece threw a character through all the types of conflict possible in fiction. The main character, whose only name was 'Man' fell in love with cantaloupe, couldn't have the cantaloupe because of an evil farmer, grew his own cantaloupe, was left by his family, had to choose between a woman and the cantaloupe, and experienced many other wacky scenarios because of his love for a piece of fruit. 
Last, but certainly not least, Maury High School performed Our Place. Our Place is a shockingly sad play about people who all share one special place that they believe to be solely their own. The actors did an absolutely impeccable job at showing the raw emotions their roles experienced throughout the course of the show, and this was not a talent that I alone felt the weight of, as many of the other audience members shed a few tears with some even left sobbing. 
Unfortunately, Gloucester High School did not win a place in the state competition, but they still produced an amazing play. Maury High won first place and advanced to States, and so did Woodside. I have to admit I was a little shocked when Women in War won second place, but overall it was an incredible day of theater.