365 Days Is A Spicy Delight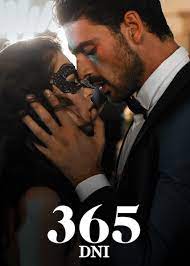 If you haven't watched 365 dni, now is the time. The sequel comes out April 27th, 2022 and many people are thrilled to watch it! 365 dni is a rated R movie, so I wouldn't recommend watching if you don't fit in the mature category. Everyone will be talking about the second movie soon and I suggest you watch the first movie before the next one comes out, so you don't hear any spoilers!
365 days is an erotic thriller directed by Barbara Białowąs and Tomasz Mandes. The plot of the movie follows Massimo (Michele Morrone) and his journey to make Laura (Anna-Maria Sieklucka) fall in love with him. The catch is that Massimo is a Sicilian Mafia member and kidnapped Laura to force her to fall in love with him. He has given her 365 days to fall in love, if she doesn't fall in love then he will let her go. This movie will leave you shocked with a massive cliffhanger at the end.
I honestly loved this movie, I thought the plot was good and I can't wait for the sequel to come out. Many people talk about 365 days because of all the steamy scenes. I watched this movie because it was all over my For You page, on TikTok. As soon as I first started watching the movie, I saw how cute Massimo was, and I've been following him on Instagram ever since. I really didn't mind the sexual scenes, but if you don't like stuff like that, then I wouldn't recommend watching.
On February 7th, 2020, the first movie was released. Before getting famous from his leading role in 365 days, Michele Morrone worked odd jobs while also doing minor roles in theaters. Anna-Maria Sieklucka acted in various stage plays before her path to fame. Michele addressed a bunch of the questions concerning if the sex scenes in 365 days was real or not. He announced that the scenes were fake, they made the segments look real by making the camera non-intrusive and invisible for the two actors.
If you're looking for a movie to watch, I really recommend 365 days. The movie shocked me the whole time with the turn of events at every corner. I definitely wouldn't recommend watching this movie with any family members or with any children around! Even with all the explicit content, this movie was really well written, and if I could watch it for the first time again, I would!